Vintage fashion has always been interesting to contemporary tastes because of how it tells a story — of an older time, place, and people. Ever evolving and timeless, it is representative of different time periods, with each decade or era having its own stylistic markers. But within the South Asian space, especially India, the vintage wave has taken its own sweet time to surface. Hand-me-downs in general are perceived with a certain amount of distaste. Moreover, in a country as poverty-ridden as India, it's difficult for sustainable alternatives, that are invariably more expensive, to find a profitable market. Despite these challenges, the past few years have witnessed the emergence of a vintage fashion market, that was previously non-existent. And, Divya Saini, founder of Bodements, is one of the few people spearheading the movement.
A fashion, editorial, and celebrity stylist by profession, 24-year-old Divya Saini has achieved much for someone who is only in her early twenties. And adding to this exciting list of creative endeavours is her own online vintage fashion boutique store called Bodements. 'Handpicked. Exclusive. Upcycled. Curated with Love,' as the boutique's Instagram page reads — Bodements is a curated platform for vintage creations from the late 60s to early 2000s, mostly from French and other designers from across Europe. Divya's in-depth knowledge and understanding of the timelessness of fashion is evident in her pick of one-of-a-kind hand-quilted jackets and floor-length kimonos. Each outfit carries with it a unique old-world charm that is missing from 'fast' garments of today.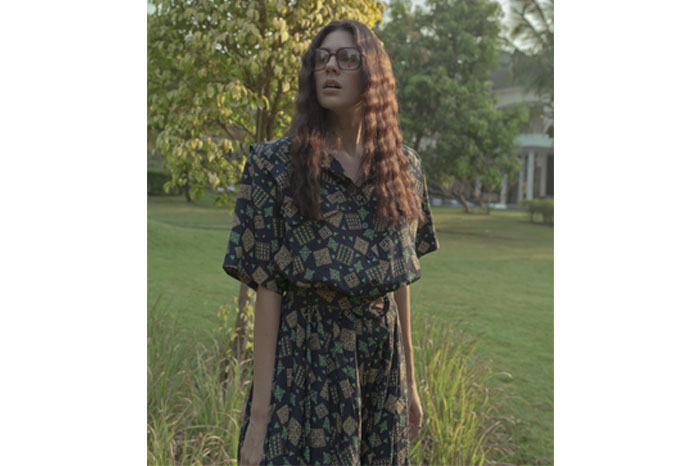 As someone who has been in the industry for so long, Divya is quite familiar with the declining concern for ethical and sustainable practices and aims to change just that, "Bodements is a reflection of neglected industry practices. We aim to unite social responsibility, socio-economic awareness and fashion. Our society has become addicted to the fast-paced culture where we get what we want when we want without calculating its consequences."
It was on the outskirts of Paris that Divya first encountered the alluring universe of vintage fashion. While sourcing clothes for one of her shoots, her friend introduced her to a store that had a plethora of sophisticated printed shirts, blouses, and jackets. "I bought a few articles for my shoot and a lot of things for my friends as well. They loved how unique each piece was, how it told a story and more than embodied a style. They wanted more, but oddly enough they wanted me to find them," she explains. "It was then that I realised that my passion for sharing little treasures, which I bring from trips, could actually grow into something bigger."
But more than just an online boutique, Bodements is very much a part of Divya's own wardrobe. Her vintage favourites include her Christian Dior double breasted jacket, Jean Paul Gautier sunnies and Karl Lagerfeld pumps. In fact, Divya no longer shops from "big, cheap, pret-à-porter fashion brands", and prefers to pay a little more for garments that will last her three times longer than what's being sold by large retailers. "On a professional level, I will always prioritise sustainable and ethical clothes for my works. There is a new wave of sustainable and ethical designers in India and that helps a lot but it's not easy to find sober, simple, and classy basic garments in India," she tells Homegrown.
As we go through Bodements' incredibly aesthetic Instagram feed, we can't help but admire and enquire about the secret to how she sources her vintage clothing articles. Her response is as cheeky as our question, "What I've learned in the past few months is that rule number one of the vintage industry is: keeping all your processes and sources to yourself. Good places are hard to find and don't last long, especially if you talk about them. But it isn't a secret that garage sales are where you do the best deals." Currently, most of Divya's garments come from France but she is looking forward to Italy and New York as potential locations for expansion of her future collections as well.
Having said that, Divya is well aware of the fact that Bodements, at the end of the day, caters to an incredibly niche market - or the 'industry insiders', as she likes to call it. "Let's fact it, vintage fashion revolves around occidental brands and designers. The Indian market just never developed an affinity for the concept of local vintage," she tells us. But that didn't stop her from doing what she loved, even if it meant surrendering what was status quo — mostly because she understands the allure of vintage fashion and what draws people towards such a niche style statement. "I guess that most people are attracted to vintage fashion because it looks classic and unique. But there are people that are attracted by the symbolic aura a garment can have as it often represents an idealised past", she tells us.
In an industry that is predominantly governed by fast fashion trends, vintage fashion, according to Divya, goes hand-in-hand with runway couture and its seasonal transitions. In order to be able to successfully identify articles of vintage clothing, one needs to be a good observer of the streets and monitor social media to spot the next trend and bring it in as quickly as possible — something Divya's instincts and experiences have equipped her with. And with a skill set as unique as that, we can only dream of what Bodements is going to bring to the table next.